Dr. David Coogan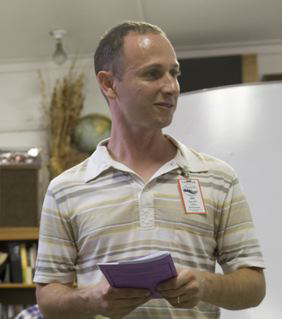 Co-Director, OPEN MINDS | VCU Department of English
dcoogan@vcu.edu

Since 2006 David Coogan has been teaching writing workshops in autobiography at the Richmond City Jail (RCJ). The work has been supported by the College of Humanities and Sciences through its Student Engagement Program and the Career Enhancement Scholarships. It has earned praise through VCU's 40 Acts of Caring Award. And it was a spotlighted project in VCU's application to the President's Commission on Higher Education Community Engagement Honor Roll. It has touched the lives of over five dozen inmates. And it has reached hundreds of VCU students enrolled in English 366: Writing and Social Change: Prison Writing.
Coogan is the author of "Moving Students into Social Movements: Prisoner Reentry and the Research Paper" (Active Voices: Composing a Rhetoric of Social Movements, edited by Patricia Malesh and Sharon Stevens, SUNY Press, 2009) and the co-editor with John Ackerman of The Public Work of Rhetoric: Citizen Scholars and Civic Engagement (University of South Carolina Press, 2010). He is currently finishing another book chapter on prison teaching, "Autobiography as Inquiry: Crafting and Ethical Code in Jail," which will appear in Working for Justice: A Handbook for Prison Teaching and Activism, edited by Stephen Hartnett, Jennifer Kay Woodward, and Eleanor Novek (University of Illinois Press, 2013) and a book-length manuscript based on his first autobiography workshop, Writing Our Way Out: Memoirs from Jail.
Read Dr. Coogan's recent article in the Richmond Times Dispatch, "VCU-City Jail Partnership Builds Community"
Learn more about Dr. Coogan's work at www.davidcoogan.com »
View Professor Coogan's OPEN MINDS courses »